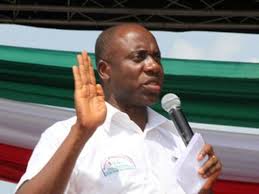 The Rivers State Government under the guide of Rt. Hon. Rotimi Chibuike Amaechi has at will frustrated the hope and aspiration of younger footballers in Rivers State.
There is a competition hosted by Rivers State on April 2013, where the winner is supposed to represent Nigeria in the 27th edition of the United Stated of America senate president Soccer Cup.
The competition was hosted by Rivers State with the kind permission of His Excellency, Rt. Hon. Rotimi Chibuike Amaechi with the competition christened Nigeria senate president U-20 soccer competition where all the 36 states of the federation registered.
The competition was indeed played at the Liberation Stadium, organized by the African Youths Sports Federation (AYSOF) where Abia State qualified to play Rivers State, the host state in the finals uptil now, the finals is not being played because the ten million naira approved for the competition is not released.
Meaning, many players who would have benefited in playing in the international youths soccer competition had been denied a golden opportunity in America.
As if that is not enough, Rivers State sponsored Sharks, Dolphins, Rivers Angels are owed their last season sign-on-fees to date, which made them slept at the door of Government House in protest of their sign-on-fees and part of match allowances, bonuses and salaries.
An hungry man, is an angry man and no soul will produce result with an empty stomach, even as the players are doing well, the Rivers State Government is frustrating their productivity drive.
Emem Oduoak is a productive player, playing for Port Harcourt side Dolphins, Christian Pyagbara is an attacker for Sharks of Port Harcourt.
Azeez Oshola plays for Rivers Angels. They are all stars needing encouragement to shine, yet the state government does not take all these into consideration.
These players if motivated will produce result any day they are featured as they have demonstrated even under empty stomach at home and national level.
They are national stars based on their performance at their different local clubsides.
Christian scored four goal in a single match, Emem Oduoak increased his own to six goals in a single match all in Port Harcourt. ###