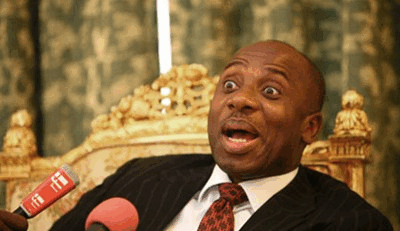 Rivers State Governor and Director-General of Buhari Campaign Organisation, Rt. Hon. Chibuike Rotimi Amaechi has dispel rumours by critics that Buhari will Islamize Nigeria.
He also said the issue was unnecessary as the nation's constitution had already guaranteed freedom of worship and association to all citizens in the country.
Amaechi stated this Tuesday during the state APC campaign tour to Emohua Local Government Area of the State.
He warned Christian leaders commercializing the name of Jesus Christ in the church to desist forthwith as further perpetration could incite public disturbances.
According to him, "Nobody can Islamize Nigeria. I also want to warn church leaders to stop commercializing the church of Jesus Christ, especially, those men of God who collect money from the PDP to give false prophesy.
"Ikwerre people and Emohua people need to stand by me because I have performed in Rivers State. You are expected to vote APC from the Presidential ticket to the governorship ticket. We shall all vote for General Muhammadu Buhari and Dr Dakuku Peterside because of the existing poverty level in the country and unemployment. We shall punish President Jonathan with our votes", Amaechi said.
He noted that with the level of sensitization and commitment of Rivers people to the All Progressives Congress, (APC) political agenda, he was sure of victory for Buhari and Dakuku Peterside in the presidential and governorship polls respectively.
"I have seen victory and for the first time in the history of this country, the PDP is asking for the postponement of the February general elections. That is why we should vote for the APC", Amaechi said.
The State Chief Executive also lambasted the PDP guber candidate, Chief Nyesom Wike on lack of leadership ideology, adding that as former Supervising Minister of Education, he could not attract any developmental project in the Education Sector to the state.
He equally called on the PDP flag bearer of Rivers East Senatorial District, Senator George Thompson Sekibo not to go against the zoning arrangement, stating that Rt. Hon. Andrew Uchendu of the All Progressives Congress, (APC) had already been zoned to take the slot in the upcoming February elections.
"When Nyesom Wike was Supervising Minister of Education, instead of building schools, he was busy stealing money. He is the only man that I have met in my life that drinks a bottle of alcohol that costs N1.6 million. I wonder what he would do if he enters office as Governor. The people of Ikwerre and Emohua have given their votes and support to George Thompson Sekibo on the platform of PDP twice. He cannot go against our zoning arrangement. This time, the slot is for Chief Andrew Uchendu", Amaechi explained.
Earlier, at the University of Port Harcourt Choba where the APC campaign train met with thousands of students' supporters of APC, Amaechi assured that he would never relent in his efforts in promoting quality education for Nigeria youths.
"I am a graduate of Uniport and President Jonathan is also an Alumni of Uniport, but, the difference between us is that, I can perform without fleecing the people. I promise I will never disappoint my Alma mater. As a leader, I have erected a building for the English Department in Uniport and making preparations to build you a new auditorium. On that day of the election, I enjoin you all to urge other students on campus to massively vote for the All Progressives Congress for more dividends of democracy", Amaechi said.
Earlier, Governor Amaechi embarked on a door-to-door campaign for the APC Presidential flag bearer, General Muhammadu Buhari and Dr Dakuku Adol-Peterside in Diobu axis of Port Harcourt.
On his part, the Guber candidate of the All Progressives Congress, APC Dr Dakuku Adol-Peterside said, he had mapped out three strategic policies to build a social contract with Rivers people if voted into power in the February general elections.
"I have three strategic policies to build a social contract with Rivers people. Firstly, all projects commenced by Governor Amaechi that were not completed will be completed in my administration. We shall also go ahead to lift the people of Emohua out of poverty, improve mechanized farming, support Agric extension services and build cottage industries. Internal security will be guaranteed to ensure that insecurity in Rumuekpe and Ibaa are controlled. APC supporters should be vigilant and execute their social contract by voting and monitoring the election results so that the future of our state will be secured", Dakuku said.