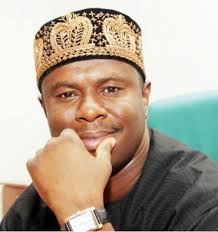 The ambition of the All Progressives Congress, APC, governorship candidate in Rivers State, Dr. Dakuku Peterside, received a major boost at the weekend as three thousand pastors from various churches in Rivers State and beyond have declared their support for him.
The pastors pledged to mobilise and sensitize their members to fully participate in the coming elections.
They also agreed that on no, account should anybody, irrespective of party affiliation, ignite violence before, during and after the elections.
The pastors, operating under the aegis of the International Ministers' Forum, IMFO, insisted that the coming elections were very important to Nigeria as a nation, and as such, the church must pray for peace and for God fearing leadership.
The APC governorship candidate, who made an unscheduled appearance at the ministers' conference held at the Abundant Life Evangel Mission, ALEM, in Port Harcourt, Rivers State, called on the pastors to prevail on their members to feel free to elect whoever they want to be their next governor.
"You are free to elect between me and Nyesom Wike of the PDP as your next governor.
"Between me and Wike, whoever becomes the next governor of Rivers State will determine where the socio-economic life of the state would go.
"The next governor must have integrity, vision and above all, the fear of God.
"I have never belonged to Vikings confraternity or any other secret cults for that matter and I will never belong.
"I fear the Almighty God because he alone can enthrone a leader", Dakuku said.
Peterside, who said his four-point agenda would include security, peace and the unity of all Rivers citizens, promised that his administration would not hesitate to give the Certificate of Occupancy, C of O, to any church that qualified for it.
He further appealed to the pastors to make a choice they could always defend before God.
"If you support and vote for me, I promise, I will never let you down. I mean well for our state and I will rule with the fear of God", Dakuku assured.