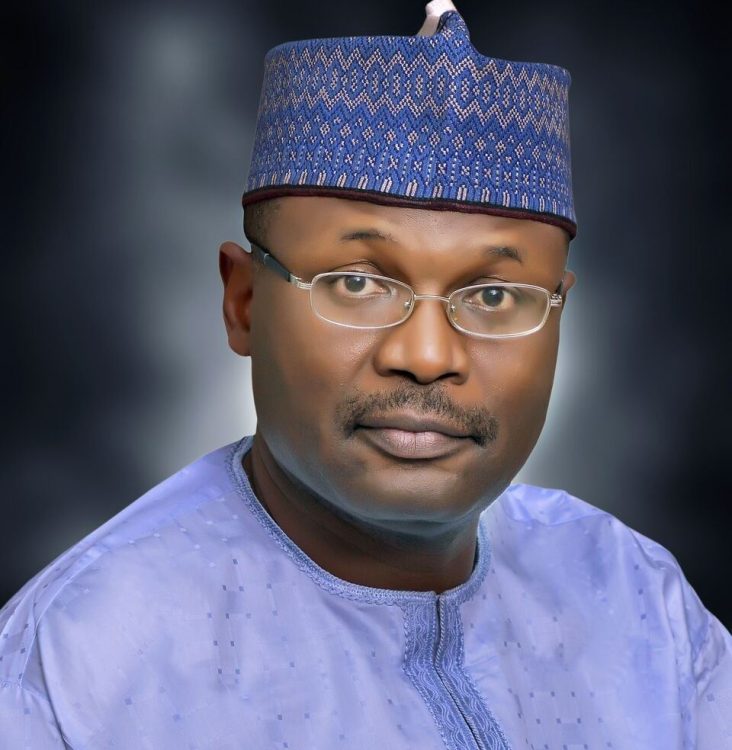 The suffering of the masses in current century is undoubtably a pleasurable moment to some perhaps because of the selfish gains or what one intends to achieve out of the sufferings of a people. Facts are scarce resources in contain activity but not as it affects the political system in Nigeria especial during the tenure of the current national chairman professor Mohammed of the Independent  National Electoral Commission, INEC.
During this tenure under review, the term inconclusive or rerun elections have greeted Nigerians and Nigeria in a way and manner that even the international community's which Nigerians most times rely on have condemned it. The fact as stated above, remain that there is no election conducted in Nigeria under Prof. Mohammed that was concluded. Babies yet unborn are abreast with this fact without  gain saying.
The reasoning and meaning of these acts by the current national chairman, Prof. Mohammed of the election umpire in Nigeria is not far fetched because it does not states that Prof. Mohammed is more intelligent than Prof. Maurice Iwu, Prof. Abel Gubadia, Prof. Attahiru Jega and others but a complete evident of incompetency of the present drivers of the INEC.
Judging from the last general elections that brought in the current travelling pergeant as Nigeria's president, one could not entirely thumb up for Prof. Attahiru Jega as a perfect or incorruptible umpire; However, evidences abounds that Prof. Mohammed tenure and some State commissioners are regrettable in Nigeria, since most of the social difficulties in the country and states today are premised on inconclusive elections.
It was worrisome when a postponed election in just a local Government in Bayelsa State was conducted amidst obvious face of INEC'S irresponsibility. How do you rate the six local governments in the Federal capital territory, Kogi rerun, Imo state, and above all Rivers, the mother of all. One thing anybody must know is that most of the affected states are states controlled by the opposition political parties other than the All Progressives Congress, APC.
It is quite unfortunate and Issues Abattoir condemned the pockets of violence or call it insecurity as proffered by INEC, that characterized the many inconclusive or rerun elections; it is indeed reruns in rerun.
Making the election; umpires, for instance Mohammed to be awaken from their Slumbers, seems be to neutral and realize its roles, or responsibilities in the conduct of elections rather than favoring its employers are the main thrust of this episode of Issues Abattoir as another reruns in rerun, are expected across the country particularly in Rivers state.
shameful, disturbing, and unthinkable it is that rerun elections are deliberately allowed in Nigeria for over a year of the current administration- incredible, and someone somewhere is claiming to be transparent and changing the country for the better- unprecedented indeed.
If insecurity is branded as reason for not conducting rerun elections in Rivers State as well as other states, how and why was ex- President Jonathan Ph.D and Prof. Jega conducted elections in the North Eastern Nigeria in the obvious face of killing, insecurity by Boko- Haram without soldiers but the conventional police force without guns?
This bring to bare the conclusion and evidence that both INEC and ruling APC have ulterior motives why these state suffers representations at their various states and federal houses.
In Rivers State the leadership of all the All Progressives Congress, APC, had at various occasions made public their resolve to clinch all the seats at the National and State Assemblies with pride of having the Police, Army and INEC at their disposals but without minding power of the electorates.
To buttress the INEC and APC hidden intension to scuttle the rights of voters and other political parties, resident electoral commissioner for Rivers State Mr. Aniedi Ikoiwak had in a stakeholders forum in Port Harcourt recently voiced that there would be continuous inconclusive elections in the state, claiming that politicians do not allow for free processes. But the truth is that, Mr. Ikoiwak would have mentioned name of a political party or the politician who do want free processes. Better still he would have being bold to say party p allow party A to have election done as they wishes. For Issues Abattoir, the problem with Nigeria electoral system particularly with 2015/2016 general elections and the several reruns, is the electoral umpire who have probably sold her conscience in attempting to provide ready platforms for the ruling party to excel without contest via normal processes.
The Rivers INEC boss had several of his staff in parts of the State during the last rerun, of course he received most of the reports either generated or sincerely scripted but damaging it is for such a man to have said that insecurity was the bane of the inconclusive elections in the state.
According to the INEC boss in a stakeholders meeting in Port Harcourt, INEC Printed all original result sheets and do not sent fake sheets to LGA's and Units except that some of the result sheets were fainted which he directed should be counter signed to be used as original.
In the regard, truth was far and lacking in the Claims of Mr. Ikoiwak. All through the election years in Nigeria it has not been heard of, that Original result sheets were counter signed, then why was it reffered to as original.
Ikoiwak should be held responsible for any election irregularity in Rivers because he has chosen not to be a father when his lopsided nature has spell doom to the electoral tenure of lawmakers in Rivers State.
The statement by the INEC boss in Rivers which was aired has more to it, hence political parties must be very careful and watchful as another rerun comes up in July 30th or when it please Mr. Ikoiwak and his cohorts.
It is certain that Mr. Ikoiwak is either tired or do not want elections Concluded in Rivers Peradventure his whishes, desires and aspirations were dashed by his supposed enemies – the opposition political parties. Irrespective of other opinions may posits, Rivers electoral boss should give the populace genuine reason on his continuous deyalance in declaring the PDP candidate and winner of Degema State Constituency Dr. Fara Dagogo, which was litheto announced at the collection centre by the collation officer incharge.
How could it be that some result sheets printed together with others by reputable companies be considered fainted by such a personality like Ikoiwak? In the coming election can Ikoiwak guarantee original result sheets as well as respect the people's votes as may be decided at the polling centres and declares at the collation centres? Can Ikoiwak also guarantee a collation officer who would not only compromise her states or deprive another chiefs of his family rights?
A collation officer who would not collect result in the privacy and room of a leader of any political party but at designated points, is for sure answer to the much sad stories that surrounds March 19 rerun where ruling party intended to capture all seats.
Issues Abattoir, in the interest of fair play and justice request the immediate redeployment of the duo of Mr. Aniedi Ikoiwak as resident electoral commissioner and Mrs. Amina Zakari as federal electoral commission for Rivers  State.
Issues Abattoir further posits that any delay in redeploying these officers would amount to another plot by INEC to not only rob the citizens of the state of their rights but to further take pleasure in the suffering of the people, who are already being disenfranchised by INEC.
Rivers expectation is lasting peace and continuous hospitable feature and never crisis or those characters that foment troubles.
It is enough of the rerun, the coming must rerun mark the end of reruns in Rivers and Nigeria. Let there be no grand plot to scuttle further elections or rob any political party from winning elections. And let Aniedi Ikoiwak refrain from seeming personalizing Rivers issues. A word is enough for the wise.###
With James Mgboineme
jamesthenewswriter@gmail.com.