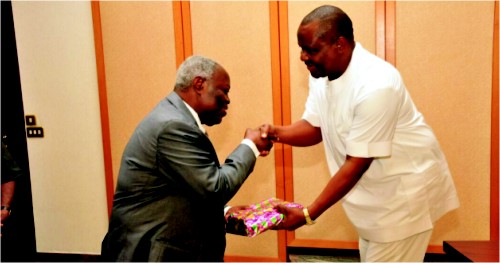 The Governor of Rivers State, Nyesom Wike, has noted that the visit of the General Superintendent of the Deeper Life Bible Church, Pastor William Kumuyi to the state was the end of challenges.
Wike said the cleric's visit would attract spiritual blessings to the state and will help it to attain to rapid development.
The popular cleric paid a courtesy visit to the Government House, Port Harcourt, the state capital at the weekend.
During his visit, Kumuyi urged the Governor to remain committed to the development of the state.
He explained that he was in Rivers to bring divine solutions to human problems, adding that the state would overcome her challenges and become a leading light in the country.
He said, "The church would continue to support the governor with prayers, do not be distracted in your efforts to develop the state."
The cleric added that since the state had honoured God, it would get divine visitation that would address the challenges facing its dwellers.
He said, "The challenges we face are temporal. God will use us to bring a time of peace and security to the state. The future remains bright for Nigeria and Rivers State and the current challenges would pass away."
In his reaction, Wike declared that the state would stay committed to God.
The governor said his administration was anchored on God.
He said, "Your coming to Rivers State will mark the end of our challenges. I know that God will do His work for this state.
"My administration is anchored on God, but for God, we would have been pulled down. God has been on our side," he added.