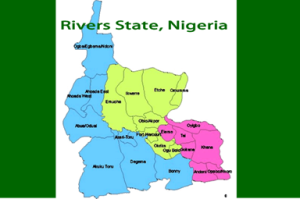 The Peoples Democratic Party, PDP stakeholders in some Local Government Areas in Rivers State are currently on war path following the dissolution and subsequent nomination of new set of Caretaker Committee CTC members in their respective LGAs.
Information had it that the PDP chieftains are at loggerheads with one another struggle for who is to produce the council chairmen in their LGAs. They are also disputing about the zoning of CTC members.
It would be recalled that Governor Nyesom Wike last week sacked the CTC chairmen and their members in the seventeen (17) LGAs.
This weekly reliably gathered that two PDP chiefs exchanged hot blows in one of the LGAs in the upland axis of the state during a stakeholders meeting to select and appoint CTC members, last week in a popular hotel in Port Harcourt.
Also in some LGAs, stakeholders disagreed on who is to become the chairmen of the CTC, thus different nomination lists have been compiled waiting for submission.
In Abua/Odual LGA, the Commissioner for Women Affairs, Mrs. Ukel Oyagiri and Stanley Uwom, a lawmaker in the Rivers State House of Assembly, RSHA are now at daggers drawn in the appointment of the new CTC members in the LGA.
Impeccable sources told our political correspondent that the duo had polarized the politics of Abua/Odual by compiling different lists of CTC nominees.
In an Ijaw speaking LGA, the PDP is highly factionalized into three (3) groups with diverse interest and opinion in the selection of the new CTC members. We gathered that quarrel broke out at the weekend as they (PDP Chiefs) met to decide on who and who to be nominated as members of the forthcoming CTC in their LGA. ###