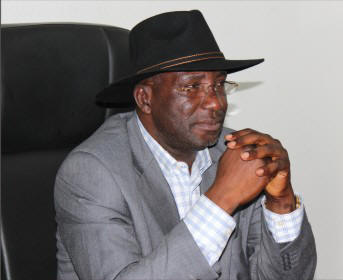 …Blast CTC Chairmen
Fresh crisis emerge in the Rivers State chapter of the Peoples Democratic Party PDP as 319 ward chairmen across the twenty-three (23) LGAs in the state are threatening to resign their offices if the leadership of party continues to relegate them to the background and treats them as nobody.
This was made known when no fewer than twenty-five (25) aggrieved wards chairmen visited our office on Monday and expressed their grievances against the party leadership in the state.
According to them the Caretaker Committee (CTC) chairmen past and present of their respective LGAs have done much injustice to them regards their welfare and non-payment of their monthly stipend. They alleged that the CTC chairmen do not carry them along in the scheme of things, despite Governor Nyesom Wike's programmes and policies to take the party and the state to the next level.
The aggrieved wards party chairmen further alleged that no body cares about their welfare, pointing out that some CTC chairmen do not even want to see them. Describing the CTC Chairmen as greedy.
One of the ward chairmen who simply identified himself as Comrade Balafama noted that since the commencement of the CTC last year July, he has being paid N30,000 once, and after then "stories" follow.
"What kind of greediness is this?, Comrade Balafama asked rheritorically, saying that the CTC chairmen have no interest of the party at heart, but their stomach, begged the governor to look into their plights and do something about it.
Comrade Balafama revealed that they have written several letters concerning their grievances to the appropriate quarters, but unfortunately all fell on deaf ears, noting that if the relevant authorities refuse to listen to their problems they have no option than to resign and pull out of the party.
He had earlier called on Governor Nyesom Wike to come to their aid and rescue them from the hands of what he calls "some wicked CTC chairmen."
Comrade Balafama maintained that their conditions have so become unbearable that is why they are now considering to resign if nobody comes to their rescue.
"Afterall the party belongs to us. And we are the chairmen of the party at the grassroots, but nobody seems to recognize us. They are treating us as second class citizens in the party", Comrade Balafama concluded.  ###