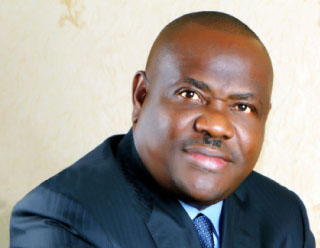 Rivers  State Governor,  Nyesom Wike has threatened those nursing intent to rig the legislative rerun election, scheduled for December 10, to be ready to face the consequences.
The governor, who briefed the media, on Monday at the Government House in Port Harcourt, on  alleged arrest and recovery of sensitive materials of the Independent National Electoral Commission (INEC), allegedly printed at Isiokpo Street, Port Harcourt, on Saturday, accused the electoral agency, the All Progressives Congress (APC) and the police of plotting to rig the rerun election in the state.
The people of Rivers, said the governor, are prepared to resist such plot.
"If you rig this election, you rig your life. If you like, bring American Marines here, we will resist rigging in Rivers. Let the people make their own choices; INEC,  should not take us for granted," he said.
Wike also accused the police of trying to destroy evidence of the illegal printing of INEC sensitive materials and failing to prosecute those behind the illegal act. He alleged it was due to pressure from Abuja and appealed to President Muhammadu Buhari to intervene and ensure that perpetrators are prosecuted.
In a swift reaction, Rivers APC accused the governor and the PDP of using thugs to stage, "bursting of a fake result sheets printing syndicate in Port Harcourt."
Publicity Secretary of APC in the state, Mr. Chris Finebone said no APC person, chieftain or ordinary member, was involved in any of the "purported actions as alleged by Wike and the PDP, assuming without conceding that any such development took place."
"The APC would like to unequivocally state that the party has zero-tolerance for electoral malpractice and does not directly or indirectly engage in any form of electoral malfeasance. We advise Rivers people and indeed Nigerians not to fall for Wike's antics deliberately contrived to tarnish the image of the APC and its members in Rivers State," he said.
The Police Public Relations Officer, Mr. Nnamdi Omoni confirmed that "some persons were arrested in connection with alleged printing of INEC sensitive materials" but did not disclose the number of persons arrested. He only said the suspects were being interrogated and added that the police would make their findings public.