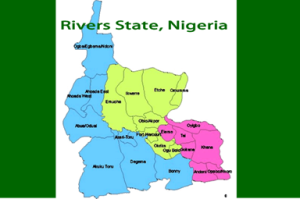 Peace is a panacea for the development of any given society. Thus no nation progresses in the atmosphere of rancour and acrimony, therefore if indigenes of any community need peace, one thing they must do is to sink their differences and forge a common front.
Critical observations show that so many communities in Rivers State are backward as a result of absence of love, and peace. Besides these, there are also pathological hatred, back biting and rumour mongering.
But the chief among these evil practices is Pull Him Down, (PHD) or Pull Her Down (PHD) or Push Him Down (PHD) or Push Her Down (PHD).
One thing is certain as soon as PHD attitude crawls into a community, it brings violence, killings and unforgiving spirit.
These will in turn bring instability in the said community.
Any society that is not making appreciable progress, PHD is taking root in its soil. When PHD becomes the order of the day in a community, lack of laudable projects, and poverty will manifest.
I abhor PHD because it is evil and wicked spirit that has the capability, and capacity to utterly destroy a society.
Those whose business focus on tearing others down. Dale carnegie wrote decades ago, "Never say anything bad about anyone. Ever". This is one of the good pieces of advice I have ever come across.
In Rivers State there are some persons as if they posses "PHD" by making frantic efforts to destroy the perfect works that Governor Nyesom Ezenwo Wike is doing.
His development projects are scatter all over the state. The governor's policies and programmes have placed the state on the fast lane of development.
However, despite the governor's developmental strides and effective administrative acumen, some evil persons are clandestinely working against the governor. These "evil men" don't have the progress and the development of the state at heart. In as much as Rivers State belongs to us, no matter the party affiliation those evil persons have no option than to join hands with the governor to push the state forward, and not to stay behind to pull the administration down.
I hate "PHD".
Damiete West
08037502931
wdamiete@yahoo.com