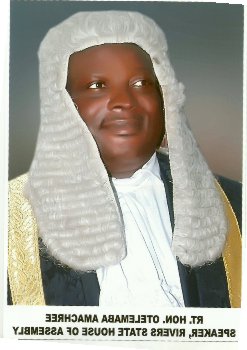 The Public Office Holders Bill presently before the Rivers State House of Assembly has shown in unmistakable terms that the so called lawmakers have abandoned the task of issue-based legislations to self-seeking rendezvous, the State chapter of the Action Congress of Nigeria (ACN), has said.
A press statement signed by the Publicity Secretary of the party, Jerry Needam said the ACN and indeed, the Rivers people are disappointed that the elected lawmakers have reduced their function of lawmaking to institutionalizing a protective umbrella for those who are afraid of facing the realities of a civil life after a dismal political outing through the public office holders law.
The ACN spokesman lamented that while the State is yet to sort out the problem of regular pensions to career civil servants, the lawmakers are hell-bent in creating an additional load on the State by converting political office holders to civil servants undeservedly through the back door.
The ACN enjoins the Speaker of the State House of Assembly, Otelemaba Dan Amachree and his fellow accomplices in this conspiracy against the electorate to have a deep breadth over their intended action and explain to Rivers people how the Public Office Holders law will add to their welfare and human and infrastructural development of the State.
"Is this House of Assembly different from other State legislatures that any idea no matter how irrelevant presented to it by the executive must be given easy passage. The legislators must not forget that the Rivers people are watching and will hold them accountable for all their actions and inactions after their tenure," the ACN noted, stressing that it's unimaginable that the legislators are so deep into seeking more for those who have amassed so much wealth to themselves as politicians without considering thousands of orphans, widows, jobless and the hopeless out there on the streets who hardly afford one square meal daily. "This is ungodly and the height of wickedness", the ACN declared.
The ACN publicity Secretary, Jerry Needam called on the Rivers masses to wake up from their complacency and condemn this onslaught and legislative sacrilege to forestall function assault on the people's collective will.