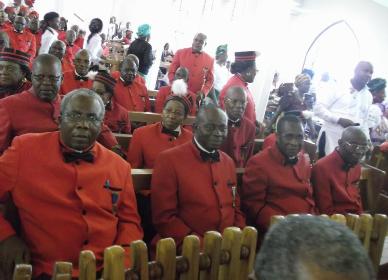 History was made in Abam Ama, Okrika, in Wakirike local government area, WALGA, of Rivers State, on Saturday, March 31, 2012, when the sons and daughters of the community, ably led by the Amanyanabo of Okrika, His Gracious Majesty, King (Dr.) Alfred Semenitari Abam, replicated what the Chiefs and elders of Okrika did in Okrika several decades ago.
Like their forefathers who looked up the sky, realized the existence of the Almighty and decided in 1924 to lay the foundation stone of a house for God that later blossomed to be the magnificent St. Peter's Cathedral, Okrika, the sons and daughters of Abam Ama gathered together and said "let there be a befitting house of God in Abam Ama", and another magnificent edifice, second only to St. Peter's Cathedral in its magnificence, St. Luke's Church Abam Ama, came into existence.
The dedication of the church on March 31, 2012 supervised by His Lordship, Rt. Rev. Tubokosimie Robinson Abere J.P, Bishop of Okrika Diocese, was attended by His Excellency Rt. Hon. Chibuike Rotimi Amaechi, Governor of Rivers State, Deputy Governor, Engr. Tele Ikuru, HGM King (Dr.) Alfred Semenitari Abam J.P., Chairman WALGA, Barrister Tamuno Williams, Deputy Chairman, WALGA Hon. Sunday Mbremieye, Commissioner for Information and Communication, Mrs. Ibim Semenitari, Commissioner for Budget and Economic Planning, Hon. Gogo Charles, Mrs. Aleruchi Cookey-Gam, Hon. Belema Okpokiri, Engineer Henry Semenitari, Chief Nemi Wisdom Aboki, NUJ Chairman, Opaka Dokubo, G. M. RSTV, Tonye Ekong, G.M RSNC, Celestine Ogolo, G.M Garden City FM, Ezekiel Hart, GM. RSBC, Medline Tador, Professor and Professor (Mrs.) Amakiri, Professor Promise Abam, Barr. Abiye Amakiri, Chief Sunday Abam, Chief (Sir) Anthony Fibika, Chiefg Wokoma Kwani, Barrister Boma Obuoforibo, Chief T. K. Tobin, Sir Daibi Selema, Amb. Idaere Ogan, Chairman RSUBEB, Sir Alli Orutemeka, Permanent Secretary Minister of Information, Mr. Baridon, , Godknows Tam George, Chituru Tasie Amadi, Dr. Emeka Enejiri, Dame Christie Toby, Hon. Emilia Nte and several other dignitaries.
Giving his address, Governor Amaechi said he felt challenged by the edifice and would like to replicate same in his community.
He enjoined Okrikans to learn to love peace and avoid wars, stressing that the youths must not carry guns as he would not hesitate to send the army to quell any disturbance.
"We must learn to live in peace, we must learn to work together, we must learn to respect our elders, we must learn to stop bunkering," the governor advised, adding that he could not write his political history without Okrika as Chief Ada George was instrumental to his rising up and also acknowledged the role played by Chief Alfred Abam, now King of Okrika, in the governorship bid of Ada George.
He pledged to repair the Abam Road, provide a road linking Okrika to Port Harcourt, and also donated N5m for the maintenance of the St. Luke's church.
"Okrika City is a good place and there are more good persons than bad persons, just that the bad persons are more vocal than the good persons," he stated.
In her speech, the Hon. Commissioner for Information and Communication, Mrs. Ibim Semenitari, thanked the governor for appointing and reappointing her.
She also thanked him for appointing other worthy sons of Abam Ama in his administration, adding that his attendance at the dedication of the church was an honour to the community.
Speaking further, she said, "As we prayed towards the dedication, the lord gave us one assurance that everyone who walks into this place, whatever prayers are said in this house beginning from today, till Jesus Christ comes, the Lord will hear from Heaven and the Lord will grant your request".
She went on to say, "The Temple is a signal of the glory of God upon the land of Okrika. By virtue of this dedication, the old is gone and the new has come".
Mrs. Semenitari later spoke to journalists, stating that the administration of governor Amaechi was the reason for the peace and stability in the community.
She condemned bunkering, stating that it destroys the economy, ruins the young people and leads to loss of lives.
"Gov. Amaechi is doing all he can to ensure that our economy picks up, to ensure that people can have access to the things that will make them become better citizens education, health care and infrastructure. Bunkering is certainly an evil that does no one any good," she concluded.
The Amanyanabo of Okrika, His Gracious Majesty, King (Dr.) Alfred Semenitari Abam JP, also used the occasion to present his latest book, "The Community Church: A Monumental Legacy", to the Bishop of Okrika Diocese, Rt. Rev. Tubokosimie Abere.
The book chronicled Christianity in Abam Ama, some past and present faithfuls of the church, the patron saint of the community church, Abam Ama, the patron saint of the Anglican Cathedral, Okrika, the life and Teaching of Jesus Christ, the church and its functions and the History of the church, in its first part.
In part two, you have Catechetical Materials, Worship, Meditation, Anthology of Prayers, Carol Services, Choral Music, Sacred Songs, Marching Songs, Chant Tunes, Meal time songs and a write-up "About the Author" by Anderson Semenitari Banson JP, (see page 9).
Writing about Wole Soyinka's new masterpiece, "Thus Spake Orunmila," Segun Ayobolu, a columnist, said, "This work fascinates. It titillates. It scintillates. It mesmerizes. It entices, it seduces you to transverse uncharted territories of the mind and human imagination". The average Christian reading through the book, "The community church: A monumental legacy", would describe the book in the above words.
Earlier, members of the church in their address of welcome, stated that the day was, "a fulfillment of Divine Destiny to cement the Good Works of our Almighty God through his faithful Evangelists inspired by the Holy Spirit".
They mentioned the faithful evangelists as David Abam who was the Torch Bearer, assisted by Samuel Anyonayesikika Sibika, Jonah Onyike Fuku, Joshua Semenitari Kienka Abam, Nathaniel George and their wives.
They also gave credit to the governor Rotimi Amaechi, saying "the entire citizens of Abam Ama Community without mincing words, have implicit loyalty to your government. Your infrastructural development strides throughout Rivers State, as well as your demonstrated acumen in tackling the Educational Challenges to their logical conclusion are living Testimonies and will stand the test of time. Verily, you have done "what Napoleon could not do", by given us a Town Hall, Primary Schools and Health Centre.
"Suffice it to say here, Your Excellency, Sir, that we hail your Sense of Fairness and Equity in appointing some of our illustrious sons and daughters of Okrika into positions of responsibility in your Government at Cabinet and non-cabinet levels. May God continue to be your guide, and grant you more Wisdom to pilot the affairs of our great Rivers State."
The encouragement, support and goodwill of Amanyanabo of Okrika, King Abam, was also acknowledged.
Others recognized and extolled include, the Chief and Head of Abam War Canoe House, Chief Sunday O. J. Bamson, Engr. Henry Semenitari and his wife, Mrs. Ibim Semenitari, Hon. Commissioner for Information and Communication, Barrister Abiye Amakiri and Dame Gabriel I. Abam JP.
They concluded by saying the dedication of the church "challenges us towards effective propagation of the Gospel. A Clarion call to all well meaning Christians to give generously to the work of God in all ramifications and called for fervent prayers by all Children of God for our spiritual growth and winning of souls for our Lord Jesus Christ."
Members of the church dedication committee were Sir Allen Ibubeleye Amakiri, JP, Chairman, Lady Mercy A. Amakiri Chairman, Medical, Elder Believe John-Abam Chairman, Finance, Hon. (Mrs.) Joyce Dennis (JP) Chairman, Food & Entertainment, Mr. Biebele S. D. Ibamieyeofori, Secretary, Elder L. O. S. Mangibo, Mr. Sotonye A. E. Bamson, Member, Dame Gladys Semenitari member, Elder Graham Iworima Derefaka, Member, Mrs. Rose Aya Anderson Bamson, Member, Mr. Lazarus H. Opuiyo, Member.
Members of the church building committee were, Sir, Prof. Datoru P. S. Abam, JP, Elder Anderson S. Bamson, Vice Chairman, Elder Elijah V. D. Bamson, Member, Elder Edward Nan Abam, Member, Chief Inembo Tomquin, Member and Elder David Benjamin Fibika, Member.
Elder Engr. Henry Semenitari, Hon. Mrs. Ibim Semenitari, Dame (Dr.) Claribell Abam and Hon. Barrister Abiye Amakiri, were honoured during the dedication ceremony.
Kenneth Amabipi