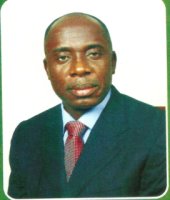 The State Governor, the Rt. Hon. Rotimi Chibuike Amaechi has directed Total Nigeria E&P to immediately commence the provision of relief materials to communities affected by the gas blow out at Ogba/Egbema/Ndoni Local Government Area (ONELGA).
Governor Amaechi gave the directive on Thursday at Obite during an inspection visit to the scene of the blow out in company of the Commissioner for Environment, Dr. Nyema Weli and members of the State Assembly.
The Governor, represented by his Deputy Eng. Tele Ikuru told journalists after the inspection of some of the sites that government would ensure that the communities are compensated.
He said the company's management has accepted that the gas leakages was a result of their operations, adding that there was no sabotage.
The State Chief Executive also briefed the journalists on various measures put in place by Total Nigeria to control the situation.
The Governor said the eruption noticed in 14 points, and spread over an area of 500 x 700 metres wide would take the company between two to three weeks to control because of the technicalities involved in the operation.
He assured the people ONELGA that Government would ensure that the situation is brought under control.
In his speech, the Speaker, Rivers State House of Assembly, Hon. Otelemaba Amachree said government would do everything possible to ensure that life returns to normalcy in the affected communities.
Hon. Amachree, represented by the House Committee Chairman on Environment and Health Matters, Hon. Victoria Nyeche, advised the people over their safety adding that the House would initiate regulations or bills that would forestall future re-occurrence of such disasters.