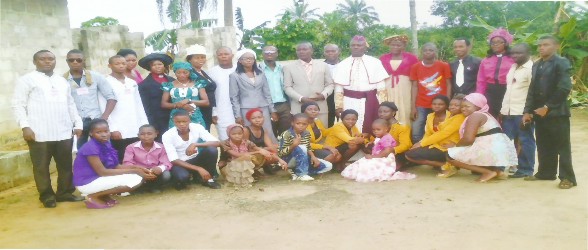 Bishop Innocent Chidozie of Holy Ghost Will Liberation Ministry marked the 3rd anniversary of his Bishop consecration on Saturday February 23, 2013 with a call to the heathen in Eleme land to come to God for salvation of their souls.
Delivering sermon, the preacher charged the church to be more up and doing acting in total tenacity to God as God looks up to those who worship him in spirit and in truth, adding that those who are diligent in their duty shall not eat with mean men but with kings.
Speaking to this weekly, Bishop Chidozie said that though he is from Imo State, he arrived at Eleme in 2000 under God's mandate and he started this ministry of the Gospel of Jesus Christ and that by the grace of God the church is  now in its permanent site.
Chidozie pointed out that the challenge of bad roads was a factor that made the church lost membership in time past, he glorified God who made it possible without the financial effort of the church the road is very much on construction that will be very fine soon.
He frowned at how people only care for themselves and fail to finance the work of God as to support the church financially, but he lauded his members, calling them Shadrack, Meshark  and Abadnego of this day, as they are dedicated to the service of God, even keeping close at every time.
Bishop Innocent confessed that the College of Bishop who consecrated him is very much glad for his anniversary.
He has it that though the church has no branches yet, he is grooming pastors whom he will send out for the work and show delight of the impact the gospel of Jesus has shown in the world today, Nigeria especially. He added that Eleme land has great testimony to tell of Jesus on their land as the land was considered no go area in those days when he came newly.
He said that Eleme land got its changes through prayers of the church, crusade and conferences.
The man of God decried how the government does not support the church of God which is making the society governable for them, saying that even if the government refuses to support the church, the church of Jesus Christ is marching on and that there is no rancor among priests in Eleme land only that they work at different points to catch souls for the Kingdom of God.
He called on those who soiled their hands in order to acquire power to surrender themselves to Jesus Christ who will give them power without measure and that the youths should serve God in the days of their youths. ###
Mene Gbarabe