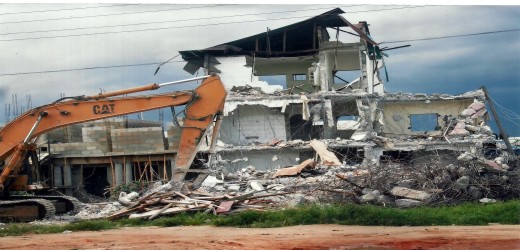 It was a moment of sadness and sorrow for the Chief Executive and Director of Standard Motel Limited, High chief Vincent Otto whose hotel located at Rumuodomanya town, opposite the Bori camp military cantonment, Port Harcourt was demolished by officials of the Niger Delta Ministry.
The ministry was alleged to have stormed the Hotel with soldiers from Bori camp on Friday 11th of April, 2013 and destroyed the magnificent motel estate estimated at seven hundred and fifty million naira with bulldozers and caterpillars.
In a chat with journalists, the MD of the destroyed Hotel, High Chief Otto described the destruction of his motel as very barbaric, wicked and an attempt to cause a breach of the existing peace in the area by the said Niger Delta Ministry officials.
According to him, last year, he and others were served a letter by the Ministry of Niger Delta to remove the property within the area of dualization which he obeyed and constructed a fence to demarcate the construction limit.
According to him, surprisingly, early this year, the said Niger Delta Ministry man came back to him demanding the sum of N8million or in the alternative he would pull down his two storey building and other bungalows in conjunction with some persons in the ministry which he told him he does not have any money to pay.
Chief Otto claimed that his two storey building and other bungalows were within the area approved by the ministry, pointing out that his building is located in the same line with that if UTB bank and Ben-Deck schools Rumuodomanya and wondered why his building was singled out for demolition.
The high chief further lamented that even the section of the hotel which was okayed by the ministry that is along other buildings was destroyed.
The Elelenwo born high chief called on the Minister of Niger Delta Godspower Orubebe and the Rivers State governor, Rt. Hon. Chibuike Rotimi Amaechi to come to his aid as well as to pay him compensation for the illegal and unlawful demolition of his property.
Some of the passers-by who preferred anonymity condemned the demolition of the buildings by the officials of the Niger Delta ministry and opined that the matter should be investigated and prosecute the said staff and his collaborators.
Attempts to reach the said staff of the Niger Delta Ministry who led the operations were unsuccessful.###
Emeka Jilly Ejiowor