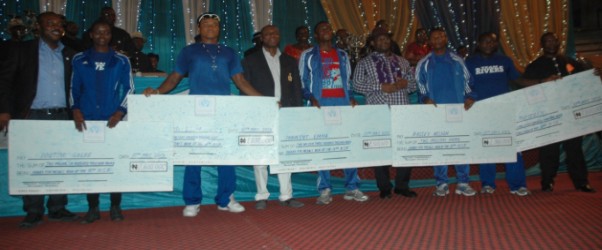 Fans of Sharks football club of Port Harcourt have lamented the unending woes of their darling club as Sharks failed to secure 3 points at home, playing 3sc during her week 11 tie.
Angry fan like mina stated that Sharks current players could not take Sharks out of relegation even as Coach Gbenga Ogunbote was given free hand to sign some players into Sharks during the week 9 sign on window.
Mina is particularly angry that the management of Sharks sacked 15 players from the former team of Sharks managed by Coach Ere Dokubo and replaced them with new 15 players which according to him, had worsen the performance of Sharks.
He calls for the commissioner of Sports, Hon. Fred Igwe to inject in new creative midfielders and strikers to take Sharks away from relegation.
"You cannot sack entire team altogether and bring a new team who had not played together. Instead of bringing good players, they brought amateur players; these crops of players are not players, saying that there is no team.
He charged the governor and commissioner of sports to replace the management of Sharks, so as to bring in fresh ideas and changes to tinker Shark to winning ways.
He particularly pinpointed that the personal assistant (PA) to the commissioner of sports and acting secretary of Sharks Jerry Victor as the actor in influencing amateur players being in Sharks, so that he could feel cool money.
He maintained that the present Sharks prosecuting the Nigeria Professional League (NPL) 2012/2013 football session is not sharks that he knows.
Meanwhile, Sharks is comfortably sitting at second last position as of week 11 with just 10 points, in the Nigeria professional league (NPL).
Another angry fan, Aspino Reality, calls for total overhaul of Sharks management, positing that Sharks need a board to run her affairs, like in the days of Adokiye Amiesemaka.
He said, he has followed Sharks for 25 years hence he is concerned and disappointed in the way Sharks is being managed which has greatly affect the status of the team performance.
Saying that because there is no committee in place, players are not properly screened as group of people will just smuggle their preferred players at will without due process as is obtainable in football or Shark cycle as it used to be in those good old days of Sharks.
The disappointed Sharks fan suggests that those to be in the board should be ex-internationals who had also played for Sharks in the past. To him, this would help change the dwindling fortune of Sharks.
He also calls for private sector to come into to manage Sharks or better still, he said governor Amaechi should borrow from the experience of former Abia state governor Kalu in running Sharks by himself, passionately, to return Sharks to winning ways.
He reflected that the Sharks team that played Bayelsa United and Kano pillars played well adding that Sharks need attackers and midfielders. He equally urged coach Ogunbote to recall the players that played Bayelsa united and Kano Pillars matches.
In the same vein, chairman of Sharks supporters club has also called for the total overhault of shark current team.
Minaye stated that Coach Gbenga Ogunbote has no reason whatsoever to fail, because the commissioner of Sports gave coach Ogunbote free hand to recruit his own trusted players that can deliver for Sharks in week 9.
He lamented that the players brought into Sharks by Coach Ogunbote are rather worse than the players he met on ground. Tasking Coach Ogunbote to start winning the remaining matches or think of resigning his appointment as coach of Sharks football of Port Harcourt.