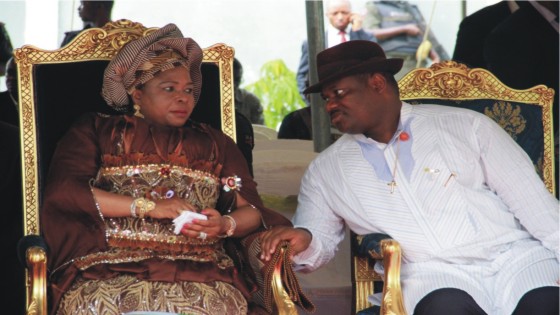 The First Lady, Federal Republic of Nigeria Dame Patience Jonathan said that the growth of the society depends on the quality of education available to our children.  Dame Jonathan said this during the Commissioning of Yitzhak Rabin International School and Resource Centre in Port Harcourt recently. She described the institution as a well considered investment that is befitting of it's  name.
Dame Jonathan said that Yitzhak Rabin, the Late Israeli Prime Minister left a legacy as an International Statesman, and commended the School authority for the conducive learning environment provided.  The First Lady, encouraged the school authority to give high priority to moral and civic education in order to checkmate the moral decadence in the society.
Earlier, the State Governor, Rt. Hon Rotimi Chibuike Amaechi, represented by his deputy, Engr. Tele Ikuru, thanked the school authority and the Israeli Government for  locating the institution in the State. He stressed that, "one of the first things that this administration have pursued with energy and vigour is the issue of education so this addition is a boost to educational development in Rivers State".
In his speech, the Israeli Ambassador to Nigeria, Mr. Uriel Palti, noted that the First Lady's presence at the event symbolized a strong relationship between Israel and Nigeria.  In his Welcome Address, President of Yitzhak Rabin Center for African Development, Dr. Blessing Ogini, said since the establishment of the school, it has been providing quality education to children of all backgrounds. Dr. Ogini pointed out that the school will equip the children with the relevant skills in addressing the nation's problems.  Highlight of the occasion was the presentation of an Award of Excellence on the First Lady by the son of the late Israeli Prime Minister, Mr. Yuval Rabin.