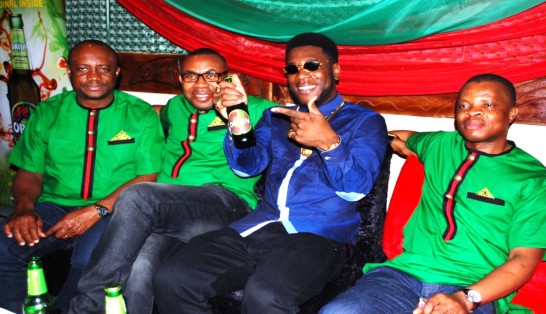 Guinness Nigeria PLC in their characteristic manner has launched another product known as Orijin.
The drink was launched at the weekend at Eddy Wine Bar, GRA, Port Harcourt. Orijin which is an alcoholic blend is mixed with herbs and fruits with bitter-sweet flavour is described by many as the pride of Africa.
Mr. Seni Adetu, Managing Director and Chief Executive, Guinness Nigeria PLC told the crowd that Orijin drink is an Africa concept which will appeal to all lovers of Africa tradition.
The Managing Director stated that Guinness Nigeria will continue to deliver on its mandate in respect to giving the consumers the best and also quality of their product at any giving time and that 'origin drink' will bring excitement to consumers, while connecting them to their heritage.
Mr. Adetu said "with a refreshingly unique taste, Orijin is a flavoured alcoholic drink our consumers deserve' he expressed.
Also speaking, Mr. Austin Ufomba, the Marketing and Innovation Director, Guinness Nigeria PLC, described Orijin as a drink that connect people to their root, saying "we always want to be connected to our customers and our intention is to tell our story in a way that allows us to relate to esteemed customers and consumers" he said.
He maintained that "Orijin" is the original drink of the true and modern African, which depicts Guinness genuineness in producing quality products that resonate with Nigerian consumers.
Mr. Ufomba stated that Guinness is not resting in delivering quality drink and special brand to the public as in the last 18 months, the company had launched four quality products such as Malta Guinness low sugar, Dubic Extra larger, SNAPP and the latest is now Orijin.
Others who to spoke to our correspondent described the product as calm, nice and sweet with a blend of alcohol.
Highlight of the event was the performance by a Port Harcourt Artiste, Burna Boy whose rendition thrilled the crowd to their bewilderment which blend with the launching of the drink, as other musicians, entertained the crowd.
Prior to the launching, Port Harcourt witnessed various sizes of African drums placed at strategic places and some of those interviewed said "It seems a new thing about culture is about to happen" other stated that the drums signified culture" but the launch of Orijin drink put an end to all the speculations by Port Harcourt residents.
There was also a dance drama titled "The Orijin" which chronicled the process from the conception to the production and unveiling of Orijin. However, the various African drums placed across the city also showcase "Place of the drums".
The company which was established in 1950, is one of the oldest companies in Nigeria that also brew drinks like Guinness Foreign Extra Stout, Harp Larger and Malta Guinness. ###