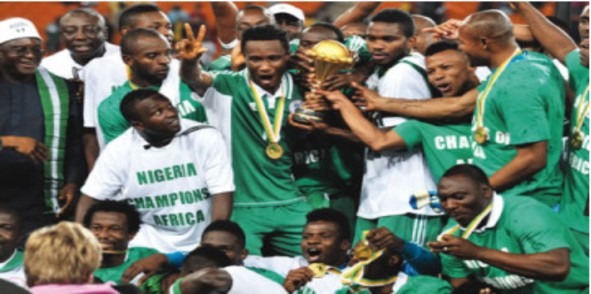 The Stephen Okechukwu tutored Super Eagles for Brazil FIFA 2014 world cup is not yet a team, with the way they have played their Ethiopia two qualifier play off matches.
Though the Super Eagles have qualified into playing in the world cup, their play do not convinced soccer pundits that they are a team. Judging from the complacency of the midfield to the attack, the Keshi lads could not boast of an average world cup player that could with stand the soccer strength of soccer disciplined nations like Spain, Brazil, Italy and Argentina when it matters most at the world stage.
Brown Ideye, Musa Ahmed are all disappointment even at this African stage, missing valuable precious goal scoring opportunities at will. This may turn out to be Eagles greatest disadvantage when playing at the world cup.
Momentary lost of concentration is another great disadvantage to the Eagles at defence.
Well prepared and tactically disciplined soccer nations like Italy, Spain, Brazil and Argentina will not have pity on the Eagles tactical mistakes they make at Ethiopia first and second leg qualifiers play off at Addis Ababa and Calabar.
To say the least, the Eagles are becoming weaker and weaker by each match they play after the Nations Cup. Emenike has become a chance goal scorer for the Eagles.
It is a pity that a continent champion could not win with a convincing win even with Ethiopians all Eagles win over Ethiopians were weak win. As the Eagles could not play as a team to get her goals. This is not too good for a champion of a continent.
If the Eagles must make an impact in Brazil 2014, Keshi should better have a goal scoring midfield, defence and an attack that do not waste chances that will come their ways or better not feature for the world honourably. ###