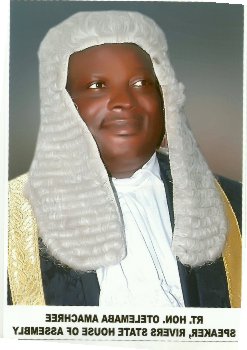 As the embattled speaker of the factional Rivers State House of Assembly, Rt. Hon. Otelemaba Dan Amachree gets the approval of his political mentor, Gov. Chibuike Rotimi Amaechi to gun for the Brick House come 2015, a political aide to the speaker who pleaded anonymity told this weekly that he (Dan Amachree) has kept aside N9bn for the next year's gubernatorial election. "We are ready to meet with any kind of political force," the political aide hinted our correspondent.
According to the aide, Rt. Hon. Dan Amachree has started working out strategies to outsmart his opponents in the forthcoming governorship primaries.
The RSHA speaker is a close friend to the Governor since May 29, 1999, when Rotimi Amaechi was in the State House of Assembly. Dan Amachree and Rotimi Amaechi were colleagues in the state Assembly between 1999 to 2007, hence the Governor has so much confidence on him.
Impeccable sources hinted this weekly that one of the reasons while Dan Amachree was chosen against late Hon. Tonye Harry to head the State Assembly in 2011 was a hidden agenda to float the controversial speaker as a Governor in 2015.
Dan Amachree started his political career in the early 90s when he contested for the Asalga Ward 3 councilorship seat on the platform of the defunct Social Democratic Party (SDP) and lost to one Hon. Daiyeriton Amachree.
As an unrelenting politician he later contested on the PDP Platform to represent the people of Asalga Constituency 1 in the Rivers State House of Assembly in 1999. Since then he is in the RSHA and currently serving his fourth tenure. Dan Amachree is now in APC.
Observers kicked against his ambition of becoming a Governor of Rivers State in 2015. According to them his representation in the State Assembly has no positive bearing on the lives of the people of his constituency (Asalga 1). They accused him of poor performance and advised the Governor not to choose Dan Amachree as a governorship candidate on the APC platform.
They expressed optimism that Dan Amachree will fail, if APC adopts him as its candidate for the February 28, 2015, gubernatorial election in the state.
A chieftain of APC in the state, who simply identified himself as Hon. Kobani Daniel called on the leadership of the party to be careful when it is time to choose its governorship flagbearer. He said that Dan Amachree does not have the political muscles to scale through the hurdles of winning a governorship seat in the state.
He pleaded with the party to select a credible governorship candidate that will deliver APC come 2015. ###