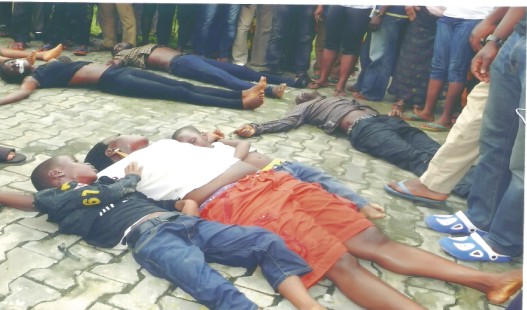 In recent times, Bonny route has not recorded any boat mishap. But on Friday 29th August 2014 one of the marine boats (Ibanise) capsized, and many lost their lives.
This publication learnt that the said boat involved in an accident a day before the incident, with one of the marine boats, which caused serious damage to the boat that need to go for maintenance the next day.
On the fateful day, the driver (Mr. Kalada Longjohn) used the said boat, and overloaded passengers and sailed to Port Harcourt for his selfishness.
Our source gathered that the boat loaded over thirty-eight (38) passengers under its bad condition, instead of going empty for the arranged maintenance.
One Mr. Jumbo who spoke to this publication noted that Ibanise boat was donated to Bonny Chiefs' Council 13 years ago by NLNG.
Jumbo alleged that the Ibanise boat, Director, Mr. Tonye Longjohn was awared that the boat had an accident the previous day and allowed the same boat over loaded to Port Harcourt with such numbers of passengers, saying that the boat director, the beach master, the driver (Mr. Kalada Longjohn) and deckhand are to be held responsible for killing the innocent people.
He as well alleged that military personnel collecting money from the drivers and allowed them to overload their boats.
Another spokeman blamed Bonny chiefs council for inability to replace the capsized boat since 2001.
This publication learnt that some corpses have been deposited at Bonny Mortuary, while some have been taken to Port Harcourt.
As at the time going to the press, all efforts to see the Amayanabo in council, King Edward Asumiri Williams Dappa Pepple and the Chairman Bonny Council Chief (Se-Alabo A. O. Manilla Pepple) proved abortive, since they are the owner of Ibanise boat.
In his speech, the Chairman of Bonny Local Government Caretaker Committee Hon. Adonye Wilcox, while addressing the people of Bonny condoled with the families of the deceased. He said that his administration would ensure that such horrible incident would never occur again.
The council boss appealed for calm in the area while assuring that effort was being made to recover the remain corpses. He announced the stoppage of Ibanise boat operation and dissolution of Marine Safety Committee of the council with immediate effect. ###
By David Hart