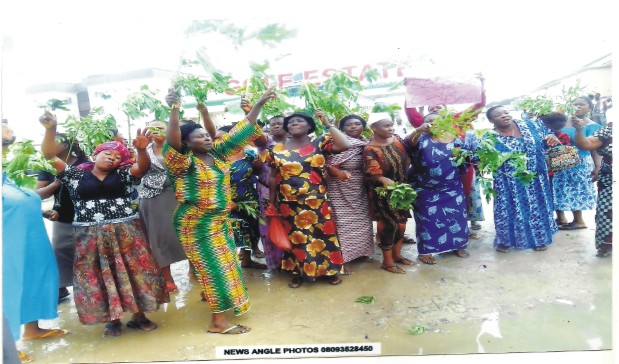 The people of Okujagu-Ama in the Port Harcourt City Local Government Area have protested against the forceful acquisition of their land by the Rivers State Government .
The protesters were numbering over 2,000, carrying placards with different inscriptions such as "Government do what is right", Golf Estate land belongs to Okujagu", "Injustice anywhere is a threat to justice everywhere", Don't delay to pay us compensation, "We should be part and parcel of Rivers State Development" amongst several others.
The land forcefully acquired is alleged to be measuring over 100 hectares, and is presently being developed by a property developer known as Gulf Estate.
The protesters barricaded the entrance of the estate chanting war songs, and also calling on Governor Chibuike Rotimi Amaechi to come to the aid of the community and save it from injustice.
Speaking, the Azuabie Community Development Committee Chairman (CDC), Mr. Precious Amoni advised the protesters to be calm, saying that the Gulf Estate is on the land of Azuabie/Okujagu-Ama. He wondered why private property developer will enter into the communities without their consent.
Mr. Amoni lamented that all agreements reached earlier with the state government/property developer to pay compensation failed, however appealed to the governor to intervene.
In his speech, Mr. Dabopuye Owuboibari, the Okujagu-Ama CDC chairman condemned the forceful acquisition of the land.
On his part, Mr. Harmony Ibiye, the Okujagu – Ama Communities Land Committee Chairman said they have tried all they could to let Rivers State Government to know the implication of their forceful acquisition of their land, and inheritance from their forefathers.
He said that the only company they gave the land is Costitan Nigeria Limited, whom he said they had an agreement for a 10 – year lease term, but regretted that the company fails to abide by their agreement of lease, forcing his community to take over their land. The Land Committee Chairman said that RSG reneged on their earlier agreement to pay them compensation, and sand fill their selected swampy area.
He noted that people of his community are peace loving and appealed to Gov Amaechi to call Azuabie/Okujagu – Ama communities to dialogue, so as to fast – track payment of compensation, thereby restoring peace in the area.
Also speaking, Mr. Daniel Alalibo, Azuabie Community Youth President said that their patience is running out, explaining that this is the reason they decided to join the peaceful protest to register the injustice against them. He said they are not only protesting against forceful take-over of their land, but also against neglect of road infrastructure in their community.
He advised Gov. Rotimi Amaechi – led RSG, to urgently intervene by paying them compensation for the forceful acquisition of their land. He said that Gov Amaechi government should help his community by awarding road construction projects in his community to competent construction firms.
Madam Fyne Gogo, Community Women leader said their farm lands have been forcefully taken away, leaving women and children helpless, as no place to farm again or fetch firewood.
In an interview with the Lawyer/Counsel to the community Barr John Owubokiri he acknowledged that he received information that his clients – Okujagu – Ama Communities are on peaceful protest to register their grievances over the non -payment of compensation to them.
He said the reason they are on protest is because RSG refused to talk with them and address their problems. "In other communities, when government takes any land, the first thing they do is to discuss with land owners, and pay compensation", Barr Owubokiri stated. He said that there is no way government can take land that belongs to the people without first discussing and settling with the land owners. " If you undermine their interest, forcefully take over their land, there could be problems. I advice that government should open-up communication channels to resolve all grievances", Barr Owobokiri stated. ###