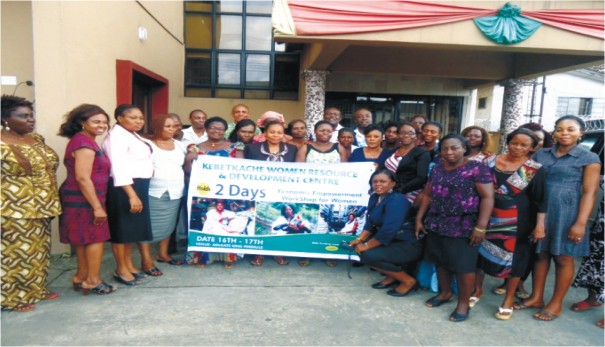 The Executive Director of Kebetkache Women Development and Resource Centre, a Non Governmental Organization in Rivers State, Miss Emen Okon said women of the Niger Delta are the most neglected during the amnesty programme organized by the Federal Government.
Miss Okon dropped the hint with journalists shortly after a two day programme on Women Economic Empowerment Forum and Business Seminar over the weekend at Aldgate Hotel, Port Harcourt.
The Executive Director who is also a member of Civil Society Organization in the Niger Delta decried how women were left out of the amnesty programme when they were the worst hited as women lost their love ones, husbands, children and even businesses during the crises that engulfed the Niger Delta.
She stated that the Federal Government ought to have considered the peculiar position of the women noting that now most women are breadwinners in their homes.
Miss Okon maintained that for Niger Delta women to come out of the economic strangulation, the Federal Government must take positive steps, in conjunction with states and local governments to eradicate poverty among women.
The woman activist said the two day programme organized by her organization is a component of the women against violence in politics, place of work and domestic environment.
She further explained that skill acquisition are always mentioned by government but little is said or mentioned of growing existing businesses hence, the workshop where they were trained on how to access loan, grant and to generate wealth.
She advised women to seek information that will propel their businesses and they should think outside the box as they should employ the use of social media for growth and sustainability of their businesses and should not shy away from participating in politics.
Earlier, the Representative of Rivers State Microfinance Agency (RIMA) Mrs. Amaka Prince Paul told the participants to form corporative society to benefit from government loans.
In her topic "Effective Management of Microfinance Facility". A case study of Rivers State, she said repayment of loan is critical to the business.
Also speaking, the Representative of Nigerian Export Promotion Council, Mrs. Ndulaka Pauline tasked Niger Delta women to make use of the export opportunities through bilateral and multilateral trade agreements, while Stanley Imoko of the Ministry of Commerce and Industry, Rivers State explained the importance of corporative Society.
In another development, Mr. Godson Jim-Dorgu, the Executive of MACJIM Foundation and Mr. Emmanuel Inafa, Head of Training Bayelsa Microfinance Enterprise Development Agency told participants the ingredients of developing a business plan, describing entrepreneurship development as those who can identify problems and providing solutions with bearing the risk.
In her presentation, a publisher in the state, Constance Meju discussed the importance of Network marketing. Some of the participants, Miss Loreta Chukwu, Patience German and Juliet Chukwu expressed satisfaction with the level of training.
"I learnt of self confidence in whatever I am going to do" Loreta stated.
"I can now start my business because I now know what to do" Juliet Chukwu said.
Highlight of the event was group work on how to identify problems and finding solutions in business. ###