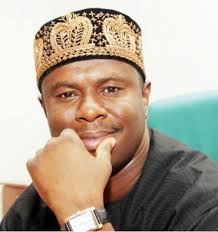 The governorship candidate of the All Progressives Congress, APC, in Rivers State, Dr. Dakuku Peter­side, has condemned the rising occurrence of political violence in the state, describing it as the greatest challenge in the state.
Peterside, who disclosed this in a chat with journalists in Lagos at the weekend, warned that if nothing concrete is done, the state might be heading towards anarchy.
According to him, the state was witnessing the worse electoral violence ever, as party offices were being bombed, people being killed and maimed. He added that not less than 37 people had been killed across the state.
Peterside, who regretted the development, said, "The situation is the greatest test to the sanctity of electoral process; the security situation in the state is degenerating on daily basis."
Peterside, a member of the House of Representatives, declared that the state was like Baghdad in Iraq before the advent of the Rotimi Ameachi administration which, he said, brought calm, normalcy and peace. He wondered why some selfish people were working hard to turn the state upside down.
On his chances at the polls, Peterside said those behind violence in the state were only trying to stop him from coming victorious at the polls. He, however expressed confidence that all the attempts will fail as he would win the governorship elections anytime it was conducted.
According to him, he is confident because of the love the people of the state have for his party and the performance of the Amaechi administration.
He said: "By my antecedence, and as someone who had been in politics longer than any other contestants, I do not dissipate energy on anything that is not viable."
Peterside further said he would make Rivers State a united, peaceful and prosperous state, through implementation of a four-point agenda that would further build on the solid foundation already laid by Governor Amaechi if elected governor.
According to him, the four-point pro­gramme are transformation of the state to guarantee security of life and property, investment and building on social and capital development, building physical and institutional development and generation of mass employment as well as empowerment of the youths and women.
"Unemployment is a fertile ground for crime," he said, promising to build the economy of the state to become the best economy in the country, adding that we will achieve the right certification for employment through various sectors like hospitality and tourism."