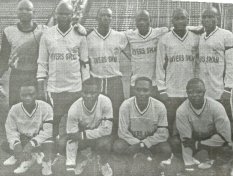 The Rivers State chapter of Sports Writer Association will at 4pm hold their end of year get-to-gether dinner and award night at the Port Harcourt Premiere Allstars Football Club Hall, at the Port Harcourt Club 1928 Football section.
The Dinner/Award night is to mark the Association's end of year's activities for the year of 2011. The event is expected to attract all that matters in the sports family as notable key sports personalities are expected to grace the epoch making occasion.
Awards will be given to deserving sons of Niger Delta who have contributed to sports development within the life span of sports as it is in one way or the other.
Former Commissioner for Justice and Attorney-General of Rivers State, ex-Eagles winger, Justice of the field, Adokiye Amiesiemaka (MON) will give an incisive lecture on football and football development in Nigeria.
Current chairman of Rivers State Football Association and Nigerian Football Federation Technical Committee Chairman, Barrister Christopher Green is also expected to be part of the sporting night.
The Swan Dinner/Awards end of year working committee extends it invitation to all sports lovers, fans, followers and the entire public to make their day as it reflects on sports in the year of 2011.
The Newswriter sports desk use this time to felicitate with all those who are celebrating victory in one way or the other as the year ends in glorious note for them. Happy big cheers to you all. Cheers.
Allanso Joanthan Allanso