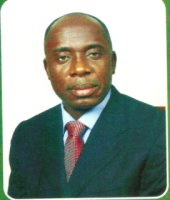 Shark and Dolphins players luck have shined as the Rivers State Commissioner for Sport, Hon. Fred Igwe last Friday want to the bank to clear sign-on fees, cash meant for Sharks and Dolphins players.
It would be recalled that Sharks and Dolphins players were owed their sign-on fees last season. This also made the players agitated as they embarked on strike. It took the concerted effort of the highly respected sports personnels of the state to quelled the angry players.
Sharks and Dolphins are both Rivers State sponsored sides, that are campaigning in the Nigeria professional football league (NPFL).
Soccer pundits are of the opinion that the dwindling performances of both teams could be attributed to the sign-on fees owed the players by the Rivers State government.
Sharks and Dolphins are both not too impressive in the Nigeria league for this season. Though, Dolphins is the better of the two teams, picking point at home today, losing at away match tomorrow is not encouraging their supporters remarked.
Sharks had changed her former manager, Augustine Eguavoen to leave way for Ogunbote to change the ill fortunate of Sharks.
Ogunbote is preparing a complete brand new Sharks to prosecute the league. So far, the new Sharks has not find her balance but there is hope for fans and supporters of the club that their team will never be relegated.
Dolphins on her part keeps improving in each match she plays, drawing and picking points at interval in both home and away matches with the sign-on fees ready for payment, it will serve as a motivational factor  for both teams to update their record in the Nigeria professional football league (NPFL).
Only time will tell at the end of the current 2012/2013 football season while wishing Sharks and Dolphins the best of the Nigeria professional football league. ###