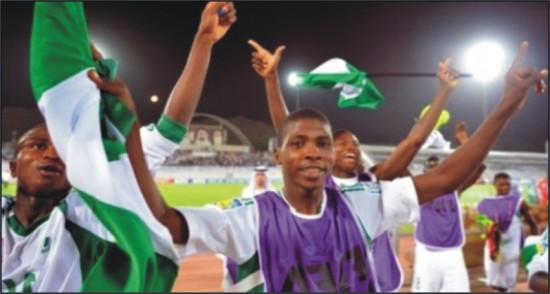 The football world celebrated the Nigerian Golden Eaglets for winning the junior FIFA World Cup for the forth time on Friday, 8th of November, 2013 at the United Arab Emirate UAE, beating former FIFA U-17 soccer champion, Mexico 3-0, whom they beat at the group stage 6-1.
While it is no longer news that the golden eaglets are the new FIFA soccer U-17 world champions, what The Newswriter sports is concerned about is, what future is Nigeria planning for the amazing talented lads that made Nigeria and indeed Africa proud? This is because the likes of Lionel Messi started his limelight at this particular stage to become the revered footballer of the world today.
The Eaglets have the same promising potentials of great footballers that could rule the world someday. If only Nigeria football federation (NFF) will guide and follow the progress of these spectacular amazing lads of tomorrows football glory.
Yes the president might have rewarded them with prizes, what they need at this particular time is their future football career upliftment. Monetary reward is just a way of motivation that my not give the amazing talents of the new heroes of FIFA U-17 soccer world cup, if their future progress is not planned and followed with jealousy.
The Newswriter sports is of the opinion that beyond the cash reward, they should be followed and guided by the type of clubs that might need their signatures as their prize value and football career stability should be uppermost of the technical committee of the NFF. Anything short of this would be betrayal to the future of the Golden Eaglets.
Great players had been raised from this age grade to no avail in the world stage no thanks to the Nigeria football federation not following the progress of the football career of such player, as some of them were allowed to sign blindly contracts that turned to enslave them to condemnation to their football career for life. Such player like Philip Osondu football career today is condemned to life because of the contract he signed. ###