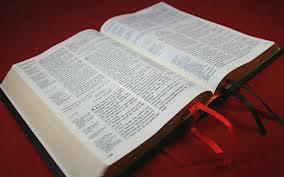 Curbing Intra, Inter Communal Crisis, The Place Of The Bible And Ancestors In Retrospect
"Thou shalt not remove thy neighbour's landmark, which they of old-time have set in thine inheritance, which thou shalt inherit in the land that the LORD thy God giveth thee to possess it. " (KJV) Deut. 19:14.
"When arrive in the land the LORD your God is giving you as your special possession, you must never steal anyone's land by moving the boundary markers your ancestors set up to mark their property". Deut .19:14 (New Living translating – NLT).
To those who for their personal or collective interest over step the bounds of the scriptures – God's standard, it is believed that after reading this episode of the Issues Abattoir, regret and restitution would be their positions.
This episode seeks to remind and highlights some dangers in forceful acquisition or claims of what is not one's right, particularly "Lands" and chieftaincy stools.
Thanks to God Almighty for providing answers and solutions to every situation under heaven. Issues Abattoir may not be perfect, but as a messenger and advocate of prospective intensions for better ways of life, the message would not miss the track or be terminated rather shall move out to accomplish the purpose for which it was meant.
The incessant imbroglio, court cases, inter and intra communal crisis rocking several communities in the world today, is as a result of overlooking the above passages of the scriptures, as it concerns lands and chieftaincy disputes.
Disputes, arising from forceful claims and acquisition of properties belonging to others such as piece of lands and chieftaincy stools have been identified as one of the major causes of intra and inter communal crisis in many societies today.
In most cases the parties involved in this dastardly act knows the truth about what they intend to or are doing but probably for a reason that the opposite party might not be as wealthy as expected, and the best thing to do is to deprive him/her of his/her entitlements or inheritance. Sometimes the other party could be a smaller community, hence cannot challenge the bigger ones in battle or in the court of law, then it is likely to face such injustice.
The spate of intra and inter communal crisis in the society especially in Rivers State is alarming, hence the call to reflect the lifestyles of the forefathers who had lived harmoniously, bequeathed these things to younger generations according to rights of inheritance and succession as well.
Landmarks (Boundary) are of crucial importance to any generations even as of the LORD. Because of its importance an order and punishment was instituted to control man's taste for it.
Forceful taking over of chieftaincy stools and lands as attributed the major causes of disturbances in the society is a taboo in the sight of the Almighty.
Alleged ceding of Rivers oil wells to Bayelsa is causing ripples in the region, as Rivers people claim it was forcefully taken.
In the recent past Deken and Deyor communities in Ogoni were estrange in crisis to the lost of lives because of alleged encroachment of each others land. Thanks to Senator Abe who is ensuring that lasting peace reigns.
Similarly, in 2004 parts of ISi-Ama Community in Andoni was deserted because of chieftaincy tussle.In fact the story of ISi-Ama Community was such that touches lives as sheer case of suppression, financial and evil connections played dirty roles.
In that community, a former executive member in the Rivers State executive council wanted at all cost the paramount stool that never belongs to him or his cronies. Of-Course the self acclaimed multi-billionaire told the paramount ruler that court cases does not favours those with genuine cases or (THE TRUTH), promised him of winning him through the court, which he actually did by his nefarious and numerous styles.
The Bible emphasis the order in Proverbs 22:28. "Remove not the ancient landmark, which thy fathers have set". (KJV). As said earlier, Wealth, greed and wrong historical postulations and presentations have been responsible for this crime and above all disregards to the holy order instituted by God himself.
This episode is aimed at reminding the citizenry of the danger inherent and need to allow peace in the society. Yielding to Biblical instructions would not only solve the problems but also bring back the joyful, peaceful and harmonious life style of the ancestors who lived without acrimony with their siblings and neighbours.
In decades ago, ancestors could voluntarily undertake the sponsorship of anyone in either educational or a given trade without minding where or whose child he/she is, but such is very rare today.
The incessant spate of inter and intra communal crisis is a serious evil that need not to exist since its demerits is not of interest to anyone. For instance, the aftermath of any incidence or destruction is always regrettable by both parties. This is an indication that such is not welcomed at all.
The Holy Scriptures, an overall reference and relying point, is against the ugly situation where properties and lives are loss because of greed of acquiring what belongs to others forcefully.
According to the Book of Hosea chapter 5:10, the anger of the Almighty God, is expressed against those who cause disaffection in the society. "The princes of Judah were like them that remove the bound: therefore I will pour out my wrath upon them like water". (KJV).
It is expected that those who takes pleasure in seeing others cry must definitely have their pay package at the appropriate time.
Taking over another man's property or belongings forcefully is viewed with anger and a taboo before God.
An end to this unholy scene exhibited by Men and Communities considered wealthy against those of low estate is hereby proposed by yielding to the standard of the scriptures which restricts men from acquiring what does not belongs to them.
If men should desist from intimidating others over their properties, the incessant crisis rocking several communities in the society would be a thing of the past, while the life style of the ancestors should be brought back.###
With James Mgboineme
Jamesprojectgodwin@yahoo.com.