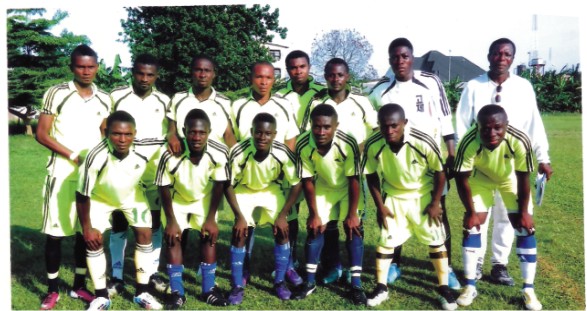 Pioneer Football Club of Bayelsa State was a delight to watch last Tuesday when it defeated D/Line United FC of Rivers State 3-1 in the grand finale of the 20th edition of Late Dappa Biriye's Soccer Cup tournament organized among South-South teams in the region.
The keenly contested final game which was decided inside the Port Harcourt Club Stadium and watched by a sizeable crowd including the President of Nigeria, Dr. Goodluck Ebele Jonathan ably represented by Alhaji Shau Umar Talba saw both finalists playing out their heart irrespective of the final score line that went in favour of the Bayelsan team.
Delivering his speech before presentation of the trophy to the eventual winner of the game, Pioneer FC, President Jonathan represented byAlhaji Shau Talba said he is delighted to identify with the organization of the football competition, having seen that sports is one of the strong tool that unites the entire citizenry of geo-political zones irrespective of age, religion or sex.
He commended the selfless service of League of Character Clubs Nigeria in engaging youths meaningfully in the period of youth restiveness all over the world, hence assured of NSC readiness to support as well as promote genuine grassroots sports development in all parts of the country.
While eulogizing the good legacy left behind by late not only Dappa Biriye, the President also took time to salute the courage and character of the two finalists; hence urging them but to sustain the tempo ensure that they rededicate their commitment in loving each other towards building a better career for their lives.
In his remarks, the chairman of the occasion, Elder Maxwell Ajekuru expressed satisfaction with the high quality of football skills showcased by the young boys while commending the League of Character Clubs Nigeria for her initiative in Organizing the soccer tournament in honour of the late elder statesman.
Contributing, the Coordinator National Sports Commission (NSC) South-South while assuring the commissions readiness to support League of Character Clubs Nigeria, stressed the need for other bodies to come forward and assist government instead of allowing them to shoulder the responsibility of promoting sports alone.
On his part, the President General of League of Character Club Nigeria Chief Elder Christian Kokoriko remarked that it was not in doubt that Late Dappa Biriye Soccer. cup competition has come a long away in producing great players namely Joseph Yobo, Ene Okon, George Abbey, Chidi Odiah amongst others who are creating waves outside the country.
Kokoriko noted that apart from discovering talents, the body is equally committed on moulding the character of youths since it is obvious that "once character is lost everything is lost".
He, however seized the opportunity to thank everyone who contributed in no small measure in ensuring that the final of the competition actually hold in Port Harcourt.
Some personalities that graced the event include Princess Gloria Akin, Chic! Emmanuel Ezeokoli amongst others. ###