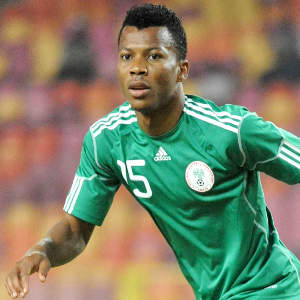 Inform Super Eagles returnee Ike Uche will lead the Super Eagles against Congo when the two countries (Nigerians and Congo will meet in an African Nations Cup qualifiers).
The out of favour Ike Uche was Keshi's nightmare when it mattered most as Nigerians continuously call for his inclusion in the Super Eagles team under his guide.
Returnee Coach Keshi tagged the player, is tactically indiscipline hence could not make the Super Eagles line up against any side under him (Keshi).
Since then, the African Nations Cup winner is under criticism in any match he loss.
Ike Uche will be pairing with Emmanuel Emenike upfront to ensure Nigeria qualification into Morocco 2015 Africa Nations Cup.
The Super Eagles are the defending champions of the AFCON trophy courtesy of their 2013 exploit under Coach Keshi. He has said that Nigeria will qualify and defend the trophy successful, these are words of hopes from the big boss as he is fondly called in his playing day in the Super Eagles coluours.
The Super Eagles will be battle ready against Congo as from Sunday when they will arrive that country; it will be Keshi's do or die encounter as the Super Eagles hope to qualify for the AFCON 2015 competition in Morocco.
Nigeria have a slim chance of qualifying, yet, Keshi said, Nigeria will qualify and go on to defend the trophy successful.
Let's hope for the best as Keshi proves his luck once again. ###