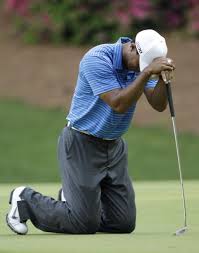 The one time world golf champion, Tyger Wood again has been knocked out of competition by injury. This is about the second or third time, injury is cutting short the career of the one time world golf sensation.
The man Tyger Wood has his strong will to stay afloat in the business, but his will has being constantly challenged by injury each time he is picking up his pieces.
The emotional problems that bedeviled him sometimes did not do much as the injuries have being much of a problem for the former world golf champion.
The golf family is not happy that their world golf former king is passing through all these challenges.
The golf world love Tyger woods, because he promotes the game and raise the market value of the beautiful game of golf.
The average golfer in the world do not want to miss Tyger woods in the greens. They want to see him do his business to make them happy.
To some, Tyger woods is golf itself without Tyger woods, there is no golf game. He puts smiles in the faces of many because the people simply love to see him play all the time.
Tyger wood brought some much glamour to the beautiful world of golf. And was able to attract followership for the sports.
Though, the very game or sports that had brought him fame and much reputation, which is his own happiness wants to cut short his happiness and fame which Tyger woods, himself would not want to allow.
The charismatic will of staying afloat has constantly always brought him back to the scene when each time the temptation comes around. ###