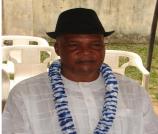 Sports loving people, here we are facing another interesting Thursday as well as having a unique personality in our column, The Newswriter Sports Personality Of The Week.
Yes, he came into the world quiet unannounced. The true person he is, blossomed into a man and started his purpose of making things happen in different sectors. He found favour in the teaching profession, integrated properly into the education sector as a teacher, maturing into the office of the fatherly principal position in his chosen noble age long career.
Like the Unknown Soldier, he came into office as the principal of Government Technical College (GTC) Trans Amadi and changed the ugly life style of the students.
A true son of Okrika, born 55 years ago, charismatic, gentle like a dove, vibrant, creative in nature, innovative, loving, tender, caring, fatherly to the students and staff of GTC, a detribalized leader of courageous repute, the make-happen principal that came to the rescue of GTC Trans Amadi, is a true servant of God and a true disciplinarian of God interest.
In his few years of being a principal in government Technical College, Trans Amadi, he has transformed the college to have a human face, as he had delivered the school from cult, irrational life style of the students to that of real students who are there to study.
Please dear esteemed readers, join me as I welcome Deacon Clifford Paul T. as The Newswriter sports personality of the week. For his constituency of organizing inter-house sports annually for his college, he merits, The Newswriter sports personality of the column even as he organized the 25th sports meet of the school last Thursday which was well packaged.
The Newswriter sports desk had never seen a well packaged sports meet of recent like the one Deacon Clifford Paul T. did. Please sit back as we unfold his data as we extracted from him. Happy reading.
Name: Deacon Clifford Paul T.
Age: 55
HomeTown: Okrika
LGA: Walga
State: Rivers
Designation: Principal GTC, Trans Amadi (Senior School)
Favourite Sport: Wrestling
Favourite Club Jersey: Manchester United FC
Aspiration: To become generational leader
Role Model: God
Turn On: Discipline and Sincerity
Turn Off: Indiscipline, people who are not objective in fulfilling their word
Current Base: Port Harcourt
Achievements: He has changed indiscipline to discipline in GTC, Teaching and learning in GTC had improved, the administration of the school too.
GSM: 08037241901
Could we but hail this man of principles and politics for him GTC is now, a school to attend this was not so before He took over as the principal of GTC.
Both staff and students now are singing a melodious song because Deacon Clifford Paul T. had brought back GTC glory.
Allanso