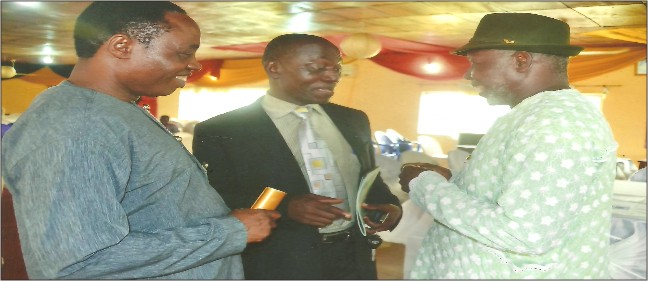 The Sancta Maria High School Omoku, Old Boys Association has bestowed an excellence award on eleven of its members for their respective achievements in various endeavours. The ceremony took place at the Delta Hotels, Port Harcourt.
Among those honoured include Hon. Augustine Doctor Ahiamadu, the executive chairman of Ogba/Egbema LGA, Mr. Uche  Owaji Julius Urombo, Pastor Liverpool Eboh Onyije, Prof. Fidelis O.N. Roberts, Hon. Justice Ihemnachow Obuzor JP, Engr. Beniah FNICE, Dr. Azubike Cyprian Nwokocha.
Others are: Dr. Chukwudi I. Whedike Ezi PHD PGD, Mr. Francis Igwebuike IFIMNIPR and Hon. Justice Stanley O. Benson.
In his address the National President of the Old Boys Association, Elder Christian Ojas Ellah while congratulating the awardees disclosed that they were honoured due to their respective achievements and roles in projecting the great institution called SAMAHISCO.
Elder Ellah who noted that the gathering provides an opportunity to be together to appreciate God for His goodness and mercies towards members of the association, recalled that the need for the Sancta Maria High School, Omoku Old Boys Association arose after the death of Late Osaemaka Adiele, a very brilliant post war Old student of the school in 1986 pointing out that the award given to the first nine members of the Association were those who distinguished themselves in their various careers and enumerated some of the achievements of the association such as donation of compete set of computers with printers courtesy of Engr. George Okoroma, scholarship awards to ten students of the school for six years courtesy of Chief Felix Obuah, Donation of trophies for sports competition by Dr. Emeka Okoroma among others.
Earlier in his address the chairman of the occasion, Elder Isaac O. Izeogu who noted that the members of Sancta Maria High School Old Boys Association are growing older and urged members to impact their knowledge to the younger generation and congratulated the awardees.
According to him, those honoured really worked hard; they followed the step of the Old Boys Association with decency.
In a chat with journalists the chairman of the Ogba/Egbema/Ndoni LGA, Hon. Augustine Ahiamadu while thanking members of the association for the award bestowed on him and his colleagues described the award ceremony as "back home" as most members of the Old Boys Association gathered once again to celebrate with members they have not seen for many years.
The Onelga Council boss who noted that there are challenges in the educational system as the awardees would recalled that there were discipline in the boarding schools system in his days said that those things are no longer in existence in the present day and urged those in authority to ensure disciplines in boarding system to move the education forward.
Similarly, Dr. Chukwudi Isaac Ezi, Mr. Francis Igwebuike and other awardees who spoke with journalists at the ceremony while expressing their gratitude to members of the association for the award stressed that the award is a challenge for them to contribute more to the association and society at large.###
Emeka Jilly Ejiowhor