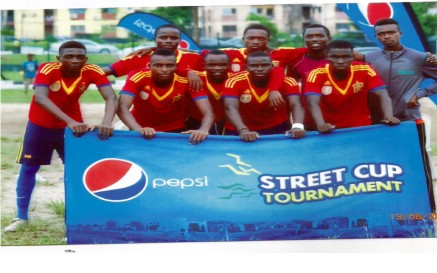 In our quest to feed the sports loving public, The Newswriter sports Desk has created another juicy and exciting column for grassroots football and sports teams.
In this edition, we are happy to unfold an interesting silent grassroots achiever team for your reading pleasure, please seat back and have a blissful reading.
Name of Team:   –           Super Striker FC
When founded:    –           10th October, 2005
Director:                       –           Ugochukwu Unachukwu
Team Director's             –           No: 08033103010
Coach Name:                 –           Timothy Daniel
Phone No:                      –           09094749266
Club Base:                     –           Borikiri, Port Harcourt, Rivers State,                                                                    Nigeria, West Africa.
Team Colour:                 –           Yellow
Foreign Favourite Club: – Barcelona FC of Spain
Foreign Club Inspired:     –           Barcelona FC of Spain
Team Inspiration:            –           To be promoted to play in premiership
Players In Premier Clubs:   –      Nil
Club Role Model:             –           Barcelona FC of Spain
Tournament Played:        –           So numerous
Super Strikers championship 2008 (champions), Super strikers championship 2009, (2nd place), grassroots league 2012, (2nd place) Abia U-17 Unity Cup 2013 (2nd place), Uchess U-16, 2014 (2nd place).
This grassroot football team having academy players to feed the world. And has so far produced one or two players for the national U-17 team. And is still ready to produce more, if the public could only give it supports for it to do so. Ably managed by a seasoned man of God from the Recovery House, Rev. Ugochukwu Unachukwu.
In its folds, the future Okochas and Kanu Nwankwos are in the making. Currently, the team is participating in the ongoing "Grassroots Development Leagues (GDL) championship 2015, organized by the Borikiri coaches forum (BCF).
The Newswriter sports only wishes you, Super striker just the best as you turn up great layers for our dear state and country and the world at large. ###